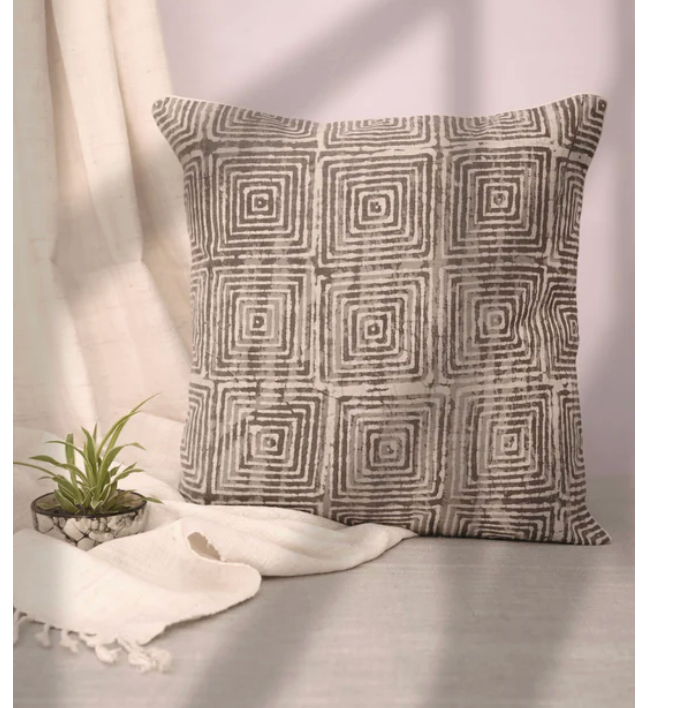 Homeyarn: Unveiling the Artistry of Handcrafted Cotton Cushion Covers
At Homeyarn, we invite you to immerse yourself in the exquisite world of home decor with our meticulously curated collection of cotton cushion covers. More than mere accessories, these covers are a testament to artistry, comfort, and sustainability, each piece a masterpiece designed to elevate your living space into a haven of style and elegance.
Our commitment to quality begins with the choice of materials. We exclusively use 100% cotton to craft our cushion covers—a fabric known for its unmatched softness, durability, and breathability. By selecting cotton, we not only ensure your comfort but also contribute to a sustainable and eco-friendly choice in home decor. In a world where conscientious living is paramount, our cotton cushion covers stand as a beacon of environmentally responsible elegance.
What sets Homeyarn apart is our dedication to preserving traditional art forms. Enter the realm of our hand blockprinted cushion covers, where each piece is a canvas of intricate patterns and designs, a testament to the age-old technique passed down through generations. The touch of skilled artisans imparts a unique character to every cover, ensuring that your home is adorned with pieces that narrate stories of craftsmanship and cultural heritage.
Authenticity is our hallmark, and each cushion cover in our collection is a testament to our commitment to the artisanal process. Meticulously handcrafted, these covers bear witness to the dedication and skill of our artisans. In an era dominated by mass production, our handcrafted pieces carry an authenticity and quality that sets them apart. Every stitch, every pattern, and every piece is a labor of love, a labor that cannot be replicated by machines.
Sustainability isn't just a buzzword for us; it's a guiding principle. Our commitment to the environment extends to the dyes we use for blockprinting. Embracing sustainable practices, we utilize natural dyes that are not only eco-friendly but also imbue our cushion covers with a rich and vibrant color palette. Your living spaces will be adorned with hues that not only please the eye but also tell a tale of responsible and thoughtful design.
Embrace the allure of Homeyarn's cotton cushion covers and redefine your living spaces with timeless beauty. As you buy cotton cushion covers online from us, you're not just acquiring decor; you're investing in a narrative of craftsmanship, sustainability, and comfort. Choose from our diverse range, including the pristine elegance of white cotton cushion covers, the charm of cotton printed designs, and the versatility of grey cotton cushion covers.
Discover the artistry that transforms a simple cushion into a statement piece. Homeyarn invites you to embrace the tactile luxury, visual splendor, and ethical values woven into every thread of our handcrafted cotton cushion covers. It's not just decor; it's a journey into the heart of sustainable elegance for your home.