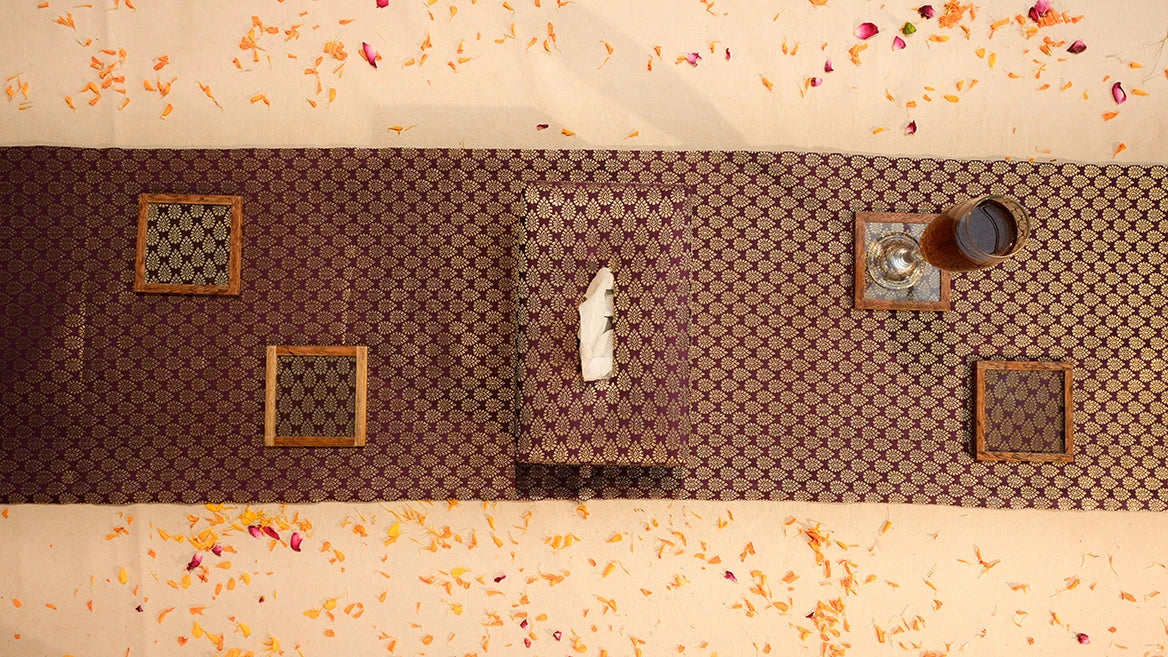 Shop Designer Table Runners Online
Buy the best Table runners online
Paying extra attention to small details of home decor is an easy way to convey your expressions. The little detailing on the wall, paint and texture will change the view of the whole place. One of the essential items is a table runner, which can create a spark in overlooked dining areas. It's like a cherry on top of your food by providing visual delight.
Table runners are a part of ideal home decor and table etiquette. It is a small piece of cloth that can quickly spark your dining area as well as a depiction of the unique taste of the host. 
Today table runners are fully transformed. From seizing all over the table to shrinking at the centre, you can get a variety of embroidered table runner. 
Why are table runners helpful?
An extraordinarily designed table runner will create a beautiful appeal. From ethnic to modern, handwoven to delicate print, we have something for you. A centre table runner is just a narrow piece of cloth that brings much-needed changes to the house. It is not just a decorative piece but also put to good use to define meal seating in a themed event. It complements the table design and saves from spilling disaster on the table. It can be changed to create a new decor or theme.
Need help with the perfect dining table runner?
Are you hosting a party? Do you need clarification about which table runner put a great impression on your guest? Well, that's not much of a difficult task. 
The table runner usually runs along the centre of the table to place lengthwise. Both ends of the table runner hang according to the table linens. It is usually six to ten inches overhangs to the edges.
The table runner is rectangular and narrow, so placing it in the centre is logical. The serving dishes can be placed on it so that it is easier for both sides to access them. Along with logic, it is visually appropriate to put it right in the centre for an appealing look.
It would be great to have dinner table mats with runner for a formal dinner. They should match with runners to create an aesthetic vision. If it is just a typical intimate dinner with a family member, you can use a dinner table runner set, or if you don't want a dinner mat, go for a cotton table runner.
Why Home Yarn?
We are motivated to create a piece that is coordinated with decor. Each piece of Home Yarn is created with proper attention and premium quality. The fabric we use is made of high quality and variety. Our products have a positive response from our customers. 
Along with premium quality products and exquisite design, we provide products at various price ranges, 24x7 customer support and an easy return/exchange policy. With all these, you can get exciting deals on our products. For every budget range, we have something for your dining table runner.
FAQs
1. How to place a table runner?
It is placed in the centre of the dining table where the serving dishes are.
2. What are table runners?
It is a fine narrow piece of cloth which is put over dining table linen.
3. What are dining mats?
Dining mats are pieces of fabric which protect your table from stains and hot surfaces.
4. Can table runners use placemats?
Traditionally it is not used as a table runner is sufficient to define meal placements.