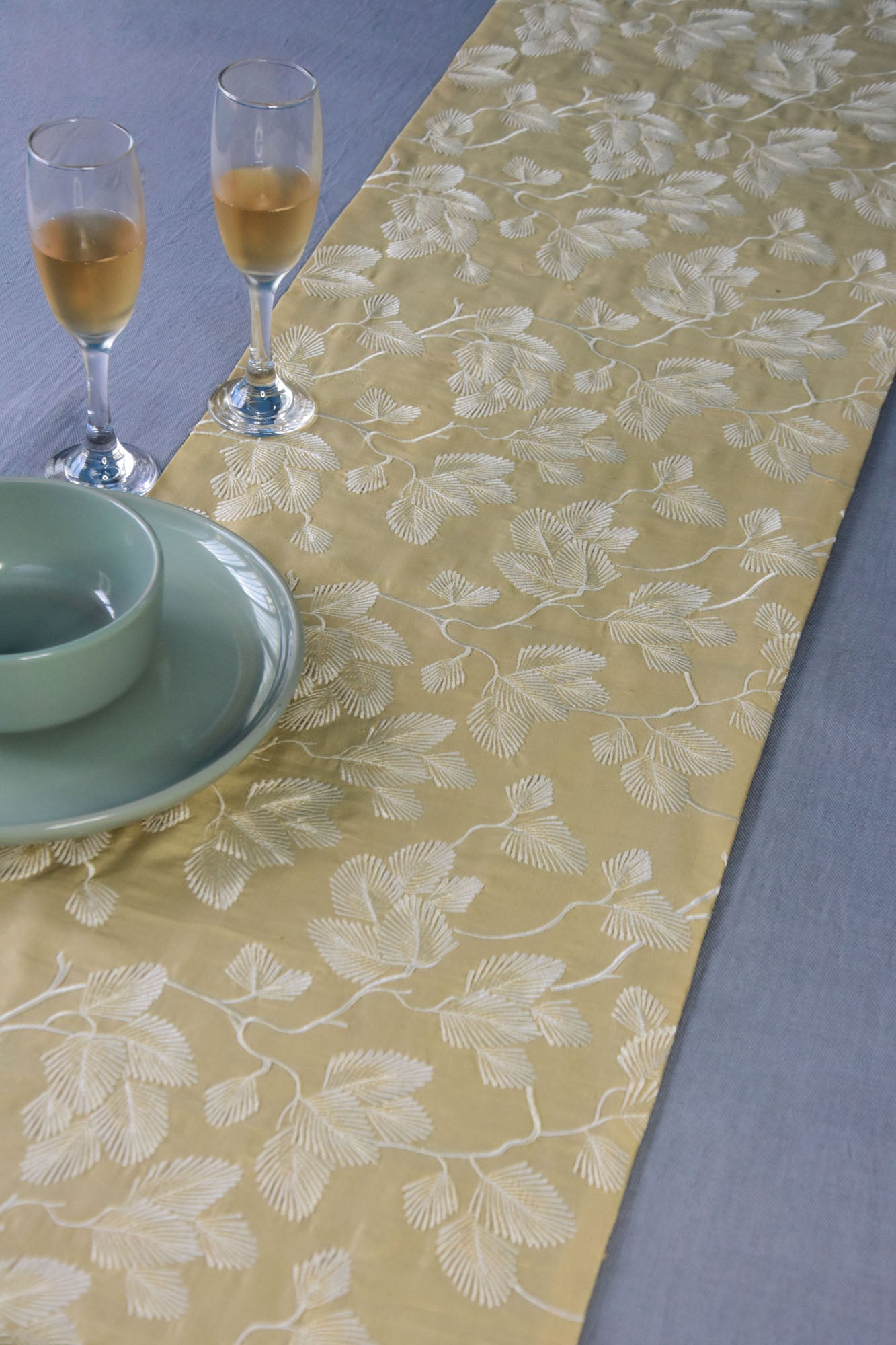 Homeyarn: Elevate Your Dining Experience with Exquisite Table Runners
Introducing the dining table runner – a versatile and popular accessory that effortlessly transforms the ambiance of your dining space or living room. Homeyarn, a purveyor of sophisticated home decor, offers a diverse collection of table runners online, presenting a fusion of style, functionality, and protection for your tabletop surfaces.
A dining table runner, also known as a center table runner, is a long strip of silk fabric that graces the length of your table, providing both a decorative accent and a protective layer against scratches, spills, and stains. In the vast realm of table runners online, Homeyarn stands out with an impressive assortment, including silk table runners, jute table runners,  cotton table runners, and velvet table runners, each a unique facet of modern table runner aesthetics.
Updating your table's look is made effortlessly stylish with the availability of table runners online. Whether your taste leans towards the modern or the traditional, Homeyarn's extensive collection caters to all preferences. Adding a dining table runner not only enhances the visual appeal of your table but also serves a practical purpose, safeguarding the surface from the wear and tear of daily use.
The versatility of a dining table runner extends beyond the dining table itself. It finds its place as a center table runner or a coffee table runner, adding a burst of color, texture, and warmth to your living space. Homeyarn understands the transformative power of a well-chosen table runner, and their online collection provides options that seamlessly blend with various decor styles.
Material selection is a crucial aspect when choosing a table runner, and Homeyarn offers a diverse palette. Opt for a jute table runner to infuse rustic charm, or select a cotton table runner for its versatile adaptability to any decor style. For those seeking a touch of luxury and opulence, velvet table runners are a perfect choice, elevating the dining room to new heights of elegance.
The Homeyarn collection stands as a testament to their commitment to diverse styles and preferences. Floral patterns, solid colors, two-toned designs, and even table runners with tassels grace their extensive offerings. Crafted by in-house designers, these table runners come in various materials, including silk, cotton, and velvet, providing customers with a wide spectrum of choices to complement their unique tastes.
For lovers of modern aesthetics, Homeyarn's collection of table runners for dining tables showcases sleek and contemporary silk table runner designs, effortlessly enhancing the aesthetics of any dining room. The inclusion of table runners for glass tables adds both style and functionality, protecting the table's surface while enhancing its beauty.
Homeyarn's table runners extend beyond the dining table, catering to center tables and coffee tables. The range is not just a feast for the eyes with its exquisite design but also stands out for its quality and durability. These table runners are more than just a decorative element; they become a staple in your home, ensuring a touch of luxury and sophistication for years to come.
In conclusion, Homeyarn's collection of dining table runners and center table runners offers an array of options, from classic to modern aesthetics. Whether for daily use or special occasions, these table runners online effortlessly infuse a touch of luxury into any setting. Elevate your dining experience with Homeyarn's exquisite collection and let your table tell a story of sophistication and style.