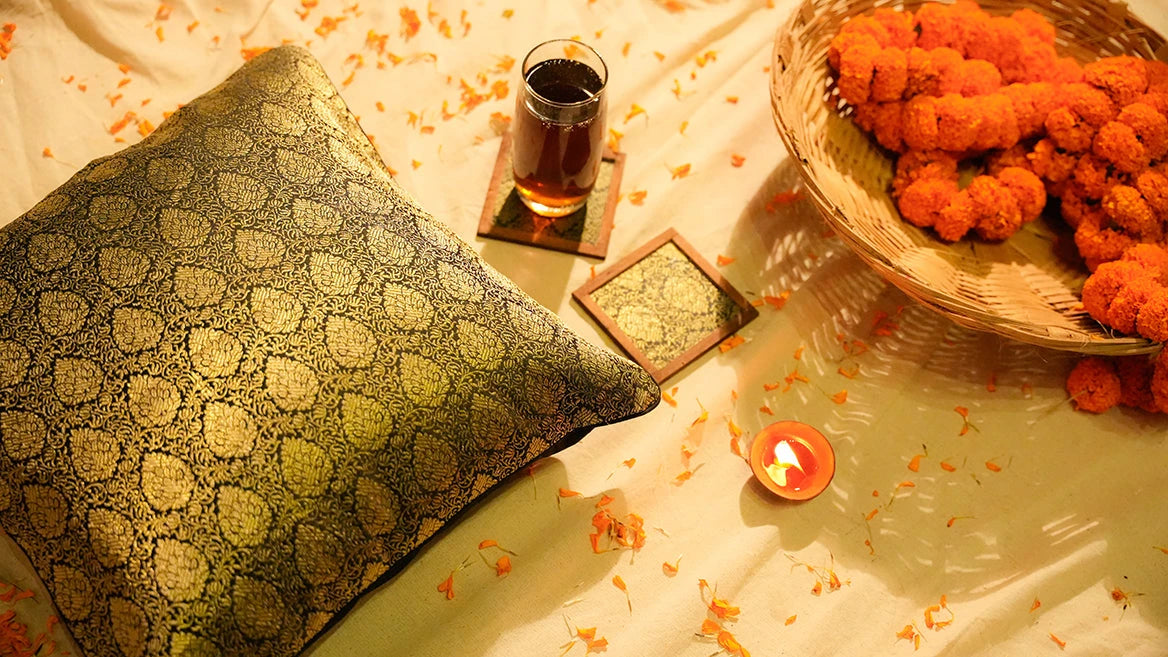 Shop Designers Cushion Covers
Buy cushion covers online that manifest your style from Home Yarn
Cushion covers are essential for home decor as they lit up your home decor. They can create a perfect aura and magnificence in your home. While frequently changing furniture is impossible, changing the design, colour or seating of cushions impacts the whole environment.
Cushions for every occasion
Are you looking for a transition in this festive season? Home Yarn is here for all your needs. Every occasion has its vibes and importance. To change the mood or create a vibe, you first change your environment. Changing sofa cushion covers with bright, beautiful colours helps during the low phase of your life. Even the fabric plays a vital role in every occasion. For example, A comfortable cotton cushion cover is perfect for daily needs to satisfy oneself. 
At the same time, for the festive event, you can get a fancy fabric like velvet or a hand-woven pillow cover online to bring out that festive vibe. You can choose a lot more, from various designs to various materials, to create a perfect aura in your home.
Pick from simple to designer, as the Home Yarn has something special Cushion cover set for different budget ranges. 
You can choose a variety of shapes, designs or fabrics for your home according to the style of your cushions. Mix or try them in different colours to add liveliness to your decor.
Shapes
Square cover
They are the original cushion shape with good functionality. They come in beautiful borders like plain piping, tarsal, frills etc.
Round covers
These round covers are more of a modern style. The functionality is somewhat less than square ones, but they create perfect uplifting decor and look delightful. You can buy cushion covers online, which are a mix of square and round.
Rectangular covers
Rectangular cushion covers 16x16 are usually perfect for deewan and beds. They are even used in certain types of couches and seating.
Designs
Geometric design
Geometric designs have a contemporary design for a more rustic touch. These designs are perfect for a work environment where the mind needs to be active.
Solid designs
Solid tone question cover is perfect to match any exciting design. Solids are perfect for sofa cushion covers online or any room decor.
Slogan print
Something quirky or sarcastic is your choice, and then a slogan print cushion cover will speak out your hidden thoughts. You can add any positive quotes or graffiti to radiate your personality.
Fabric
Cotton covers
Cotton is no doubt a popular and comfortable fabric for everyday use. The cotton cushion is perfect for daily purposes to provide breathability.
Jute covers
A perfect choice for a boho decor theme! These fancy cushion covers are a feeling for your home.
Silk covers
Classic, luxurious and favourable covers to provide a comfortable look at your home.
Velvet covers
They are perfect for special occasions. The soft texture of the fabric is swoon-worthy for a luxury cushion cover.
Home Yarn at its best for cushion covers
Your home is a place where you can feel yourself. Why don't you make your home reflect your inner personality and taste? Get the best cushion covers from Home Yarn to create a perfect home. Buy cushion covers from Home Yarn to get the ideal ambiance!
FAQs
1.  Which fabric is best for the cushions?
According to the use, every fabric is good, but the most popular are cotton and silk.
2. Which one suits the sofa best?
It depends upon the type of sofa. Most users prefer square-shaped cotton covers for their sofa.